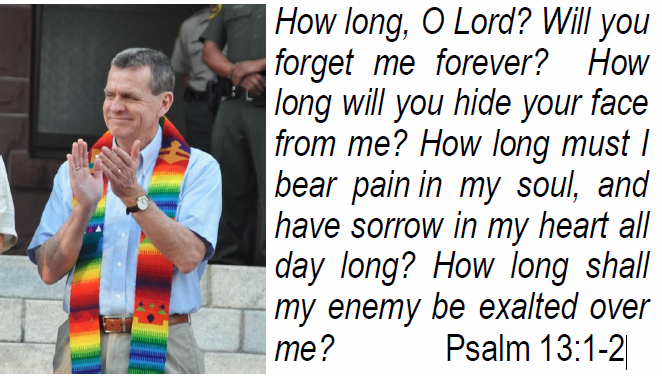 These ancient words, first composed by He-brew/Jewish voices, expressed deep sorrow of those experiencing injustice and violence by others. They could just as easily be spoken today: by many people of color, especially black men like Ahmaud Arbery and George Floyd, killed by their greatest enemy: racist cops and ex-cops who believe they have the right to hunt down, arrest, and even execute BM.
The Psalm's lament is the song sung by citizens who have come out in droves to peaceful-ly protest the systemic racism in our country that keeps a boot, literally at times, on the necks of the poor, marginalized minorities.
Yet, pain of the soul and sorrow of the heart must also be felt by legions of honest, just police who now must try to bring order to chaos in our streets.
It was bad enough when a hundred year pan-demic exposed unimaginable fear and dread upon an entire planet, forcing us to shelter in place and wait for science and medicine to save us.
The coronavirus pandemic was immediately followed by an economic one. While the wealthier with resources and assets can ride it out, and even get richer, at least half of the country lives on the edge of financial insecurity and ruin, forcing a hard choice between safety and survival. Such anxiety and uncertainty is causing a third pandemic: a growing mental health crisis.

And now, the oldest virus in America is revealed once again: racism. Like all viruses, it continue to mutate into different forms of injustice and evil. Whatever else is said, these are the days that will affect our country for years to come. Again, I am reminded of ancient wisdom from our scriptures:

Our struggle is not against enemies of blood and flesh, but against the rulers, against the authorities, against the cosmic powers of this present darkness, against the spiritual forces of evil Ephesians 6:12
I write as a white person of means and privilege to other mostly white people of means and privilege. As we discern how we as disciples of Christ should respond to the evils of our days, it is my responsibility to remind us that we follow one who was lynched by the power structure of that day. Lynching better portrays the violence done to Ahmaud, George and Jesus (crucified has lost its un-just, scandalous nature) and shocks us into hard truths about where we need to stand, and with whom. God grant us courage to do so.