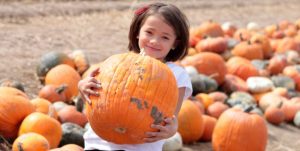 A 10 year old little girl asked a friend, "what it was like to be a Christian. The friend replied, "It's like being a pumpkin: God picks you from the patch, brings you in, and washes all the dirt off you may have gotten from the other pumpkins. Then cuts the top off and scoops out all the yucky stuff removing the seeds of doubt, hate, greed…. Then the Divine carves you a new smiling face and fills you with spiritual light for the entire world to see."
I have always liked this narrative possibly be-cause it paints a great spiritual picture using my favorite pumpkins.
The family at Church of the Foothills formed a new relationship with pumpkins last year when we embraced the challenge of hosting a pump-kin patch, which was a tremendous success.
Everyone who was involved with the patch had a wonderful experience. It provided an oppor-tunity to grow our church community, our neighbors thanked us for "making it feel like fall" in the neighborhood, and it was very suc-cessful fundraiser that benefited both our church and the Navajo community in Farming-ton New Mexico.
This year's pumpkin patch is being greeted with eager anticipation. Since June I have been asked, "When are the pumpkins coming," to which I reply, "Friday October 14th at 7pm and we can use ALL the help, people, wagons, and wheel barrels we can get.
This year's patch is looking to be just as much fun as last year's and everyone is invited to join in the fun. If you are interested in partici-pating you can sign up after church or on line at:
http://signup.com/go/oG6cF9
Blessings, Pastor Kel