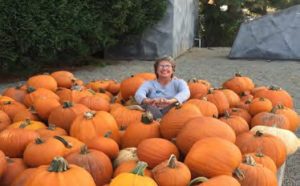 For the second year running we have filled our front lawn with beautiful Navajo grown pumpkins and gourds and offered the community a "Neighborhood Pumpkin Patch."
This event was introduced to the church as a fundraiser, which has certainly been one of the benefits, although in reality it has shown to be so much more. Hosting a Pumpkin Patch provides us with an opportunity to be known in the community for a great fall event that benefits both the church and the Navajo Nation in Farmington NM.
We had many return customers from last year who expressed pleasure and gratitude that we were having the patch again this year. We also received many thanks for offering a local Pumpkin Patch and for once again making the neighborhood "feel like fall."
This year our Pumpkin Patch had some community support and was visited by a local Girl Scout Troop and the Gay Straight Alliance Club from Foothill High School who wished to provide their services and came down and worked in the patch one afternoon
This event also brings church family closer together. Hosting a Pumpkin Patch requires many people to come together to worked, shared and laugh (A LOT.)
Thank you to everyone who has supported the patch and helped make it another successful year; this event has the makings of a long tradition.
Blessing, Pastor Kel