NEWS FROM OUR
SUNDAY SCHOOL
During the month of February, we have been continuing with the theme of bringing hope, peace, love, and joy into the world. We expanded upon this thought by exploring how we can be doing that day by day.

To help us begin this new direction, we started learning the lyrics and the sign language to the "Godspell" song "Day by Day". Thank you to Jim Rosenquist for assisting with the music and Marcie Brezarich for teaching us sign language.

Each week after enjoying time with music we devoted our lesson time to exploring the message of the lyrics. For "See thee more clearly," we all took turns looking through different kinds of glasses and lenses and talked about how it may change how we see our world. For "Love thee more dearly," we wrote messages of love and kindness to share with friends. For "Follow thee more nearly,"
we all enjoyed a fun game of follow the leader where everybody had a turn to lead the group on a fun adventure.
We will be continuing our theme of day by day and enjoying spending time with the music through the month of March. Our hope is to learn the song well enough to bring it into worship to share with the congregation.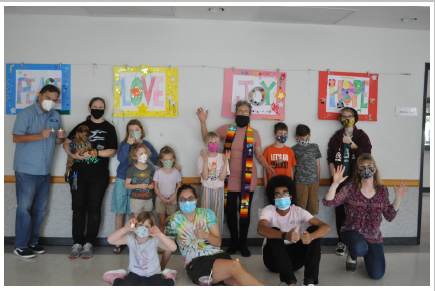 PICNIC AND PLANTING PARTY
On Sunday, March 13th, after church, at approximately 11:30, anyone who is interested is invited to come to the playground for a picnic lunch and planting activity.

Folks are asked to bring their own lunch and beverage and the church will supply dessert. After lunch, all who are interested will have an opportunity to create their own succulent arrangements, all plants and containers will be provided.

This is going to be a fun event for the whole church family! We look forward to having you join us.