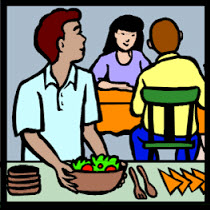 Soup Kitchen Minsitry will be held at Southwest Community Center in Santa Ana
---
Location:
Southwest Community Center in Santa Ana
---
Date:
Sun 09/29/19
---
Time:
1:00 PM
Soup Kitchen Minsitry
"For I was hungry and you gave me something to eat …" – Matthew 25:35
ChOTF's Soup Kitchen Ministry prepares and serves lunch for the homeless at the Southwest Community Center in Santa Ana on the 5th Sunday of each month (with 5 Sundays).
If you are interested in helping with this project, or you would like more information on either the Southwest Community Center, or our participation in this program, contact Dan Griset
DON'T FORGET DONATIONS
FOR THE FOOD BASKET CART EACH SUNDAY
There are no posts to display. Try using the search.
Event Categories
---
Event Archives