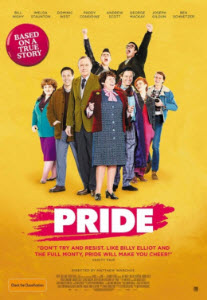 PRIDE — The Movie
---
Date:
Sun 07/17/16
---
Time:
6:00 PM
PRIDE — The Movie
PRIDE (2014) is a historical, comedy-drama that depicts the true story of U.K. gay activists who worked to help miners during their lengthy strike of the National Union of Mineworkers in the summer of 1984. Viewer and reviewer comments:
"Truly uplifting, great fun & a moving story."
Pride "highlights both how far we have come in 30 years in the area of gay rights and how far we have to go."
"I watched this entire film…with tears in my eyes and a smile plastered across my face."
LGBTQ Film of the Year.
Golden Globe Nominee.
*Rated R for language and brief sexual content.